From The Daytona Beach News-Journal
July 1, 1999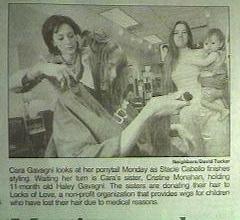 Donators' 'loss' helps others in times of need
By DONNA CALLEA
Staff Writer
DAYTONA BEACH - There was a little bit of nervousness when the snipping started. Cristine Monahan, South Daytona, said she didn't want to look. And her sister, Cara Gavagni, Ormond Beach, who's married to "a long-hair type guy," reassured herself that it would be OK "as long as it's not really, really short."
But even before their haircuts were through on a recent afternoon, it was clear both were having a really good hair day - the kind that comes from giving from the heart as well as the head.
"I have plenty of hair to give away. It's not a problem and I don't mind sharing," said Monahan, 19, who bravely braced herself as stylist Stacie Cabello cut off 15 inches of her dark blond hair for Locks of Love, a Florida-based charity that provides human hair wigs to children who have none of their own. It had taken Monahan six years to grow her hair that long.
"Anything for kids, if it makes them feel better," said Gavagni, 23, whose 11-month-old baby Haley watched with interest as 11 inches of her mama's dark red hair was bundled into a ponytail and then snipped off by Cabello.
The sisters were among more than half a dozen big-hearted, long-haired area residents who parted with 10 or more inches of their crowning glory in response to a Supercuts promotion that began Saturday and will continue indefinitely, said Cabello, manager of the Supercuts salon in Volusia Square Plaza.
Locks of Love gets the hair and the donors get what's left styled for free.
For those on the receiving end, the donated hair is something that's treasured.
"I love it," said Skylar Lewis, 11, who received her Locks of Love wig in December. Before she got it, "other children would tease me," said Skylar in a telephone interview from her home in Plant City. Bald since the age of 3 as a result of a medical condition called alopecia areata, she had pretty much gotten used to the name calling and the stares. But it makes her feel very good, she said, to now have shoulder-length brown hair, in which she can do everything, including swim.
"My baby's self-esteem has gone from floor level to sky level," said her mother, Elaine Gordon.
Like Skylar, most of those helped by Locks of Love suffer from alopecia areata, an auto-immune disease that causes complete and sometimes permanent baldness for about 67,500 children nationwide, according to Katy Karr, a spokeswoman for the Palm Springs organization. Started in 1997, Locks of Love was founded by a woman who herself suffered from alopecia areata as a child. Over the past two years, about 50 children have been provided with custom-made human hair wigs through the non-profit organization, Karr said.
The actual retail price of each hairpiece - which features a vacuum-fitted latex cap that won't fall or pull off - is $3,500.
Locks of Love orders them from the manufacturer and the children receive them for free, or on a sliding fee scale based on their families' financial need. Each hairpiece takes 12 donated ponytails and about four months to make, so only children whose hair loss is long-term typically qualify.
"It's a painstaking process," said Karr, who noted that contributions of money as well as hair are needed by Locks of Love.
Monahan, a Daytona Beach Community College student, said her fiance wasn't too keen about the idea of her getting shorn. Like her sister's husband, he likes long hair.
"But it's for a good cause," she said, and she was pretty sure he'd get used to it, especially since, even after donating 15 inches, she still had enough left for a shoulder-length style.
"It feels good," said Gavagni, as her baby reached out to touch her bouncy new bob. And she wasn't just referring to the haircut.
Send questions, comments or Feedback to News-Journal Online
© 1999 News-Journal Corp.