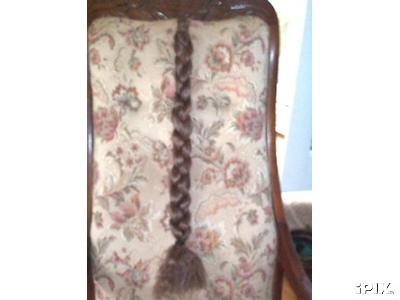 HUMAN HAIR BRAID 28" LUXURIOUS LT BRN

Shipping

Buyer pays actual shipping charges.

Description

THIS IS AN OLDER BRAID (CUT AROUND 1952). THE HAIR HAS BEEN KEPT WELL AND STILL FEELS SILKY SOFT WITH A NICE CLEAN SCENT. I BOUGHT THIS FROM AN OLDER WOMAN SELLING HER ESTATE. SHE'S FAIR SKINNED, CAUCASION AND HAS HAZEL EYES. THE HAIR IS APPROX 28" WHEN THE BRAID IS UNDONE INCLUDING THE 2-3 INCHED TUCKED UNDER THE TOP TIE. BRAIDED LENGHT IS APPROX 25" THERE ARE ALOT OF BEAUTIFUL NATURAL HIGHLIGHTS I TRIED TO CAPTURE OUTSIDE IN THE SUN. THE PICTURES ARE PRETTY TRUE TO THE COLOR, A NICE LIGHT BROWN WITH A GEORGOUS SILKY SHINE. $3.50 PRIORITY SHIP/HAND GOOD LUCK!
I prefer PayPal, the #1 payment service in online auctions!