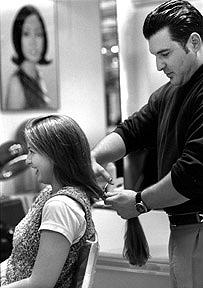 Photo by Bob Pennell
Stylist Paul Frederick makes the first cut in Jenny Autrey's hair. He took about a foot.
Hair today, gone tomorrow
Long locks will make wigs for cancer kids
Jenny Autrey gave hair loss a new meaning, but at least it was for a good cause.
The 18-year-old Medford woman had a foot of hair cut off Tuesday at Regis Hairstylists at the Rogue Valley Mall and will donate the hair to a group that makes wigs for ill children.
"Even if I regret it, I'll know I'm helping out children," Autrey said. "And I've got plenty of it."
The Southern Oregon University freshman will package the ponytail -- more than four years of growth -- and mail it to Locks of Love, a Fort Lauderdale, Fla.-based nonprofit group that makes wigs for children with medical hair loss.
"It'll make someone very happy," said Paul Frederick, the stylist who did the clipping.
Autrey had been talking about cutting her hair for years, and for months had been clipping out magazine pictures of new looks.
But she never took the plunge until her aunt, a hair stylist in Southern California, sent her a newspaper article earlier this month about the Locks of Love program. Autrey researched the group on the Internet and that cinched up her resolve.
On Tuesday morning, Autrey got her braces removed and then went to get the hair cut. Her hair was bunched into a tight wad with a rubber band, and the snipping took only a few seconds. About a foot came off, leaving it about shoulder length.
Another customer in the shop, Gloria Neuman of Central Point, walked up shortly after the cut.
"Your hair is still beautiful," Neuman said.